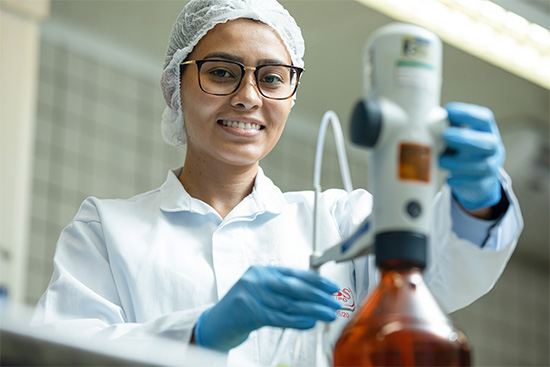 An innovative culture is integral to our constant evolution. It allows us to develop more efficient and sustainable practices while adapting to changing customer tastes, driven by the belief that we all play a role in developing a better future.
Through continuous investment in research and state-of-the-art technology, innovation has become a key component behind the way we develop new products, monitor our raw materials, operate our facilities, and recycle and repurpose our waste. Our approach is built upon consumer insights and customer needs informed by opinion surveys and market growth opportunities.
Our innovation teams around the globe share trends, innovative solutions, and technology advancements within the company to leverage our collective expertise and lead category growth. Our diversified portfolio of products allows JBS to provide an array of high-quality products tailored to meet the complex needs of customers and the discerning tastes of consumers.
To continue to meet evolving consumer expectations, Seara implemented the Innovation Hub, a structured innovation management process that monitors consumer needs and challenges, market opportunities, new ingredients, and new technologies, and applies them to its launch of new products.
Through Seara's Innovation Hub, constant research is also carried out with consumers to understand new habits, challenges, and priorities. As a result, the business invested R$ 82 million in innovation in 2022. Improvements were mapped by a Technological Gaps project, aimed at improving processes to increase consumer perception of products. In addition, significant scientific research has been carried out in the areas of sustainable packaging, sensory methodologies, and industry 4.0.
In the United States, several of our beef plants partially transitioned to a zero-trim product (ZTP) in 2022. By removing excess fat – for example, the ½ inch on the edge of a steak – the customer doesn't have to cut and throw it in trash or grill it to melt the fat.
It is instead collected at the facility and transformed into tallow. In addition to meeting consumer preferences for more convenient products, the initiative also helps eliminate food waste at home.
The JBS Process Improvement Team, in collaboration with Operations, has been developing the use of sensors to improve equipment reliability / predictive maintenance tools and the use of cameras to detect quality issues such as boning, value optimization, packaging compliance and dressing performance. These efforts are just now starting to evolve from data collection to actual usage applications.
In 2021, our beef facility in Brooks, Canada implemented a project to capture the quality of processed chuck line bone via artificial intelligence (AI) cameras, generating a score for each bone and qualifying each employee in terms of bone count and quality. In 2022, a daily bonus per employee was implemented based on daily delivery and validated by 3 parameters: quantity, quality, and audit. Ultimately, the project resulted in increased line yields, process standardization, and team member morale on the chuck line.
In partnership with Opal, JBS Australia won a WorldStar global packaging award for their innovative corrugated cardboard dunnage solution. Opal developed the innovative dunnage solution in collaboration with JBS to limit product movement during transportation, which can result in costly damage and food waste.
Dunnage is usually constructed from expanded polystyrene (EPS), which can't be recycled and ends up in landfill. Opal's dunnage is a column-like corrugated structure, and a sustainable, 100 per cent recyclable cardboard alternative to non-recyclable EPS.
Swift offers more than 500 product options under a commitment to deliver healthy, practical, and sustainably sourced products. The company has also developed an innovative freezing process that maintains the same tenderness, flavor, and texture as fresh products while improving food safety.
The Swift portfolio includes gourmet ready-to-eat meals, fruits, and vegetables, as well as frozen protein products.