At JBS, we pursue excellence in all that we do, innovating to place high-quality food on the tables of millions of consumers around the world, and doing our part to preserve the planet's resources for future generations.
We continue to dedicate substantial resources to the well-being of these communities by volunteering our time, donating product, sponsoring local events and teams, and providing gainful employment opportunities. To make sure our efforts have the most meaningful impact, each of our businesses has independent authority to decide what is best to support their communities. For example, some facilities focus on bettering the lives of local youth, while others choose to assist in the fight to alleviate hunger in their communities.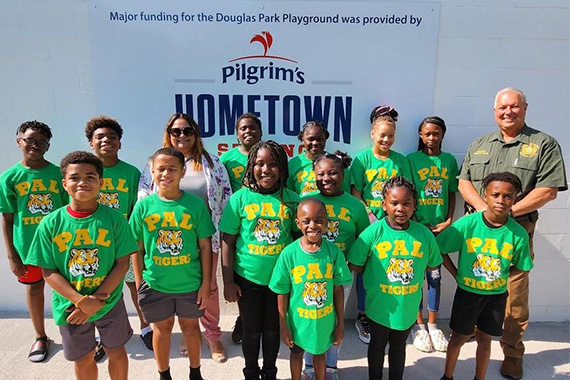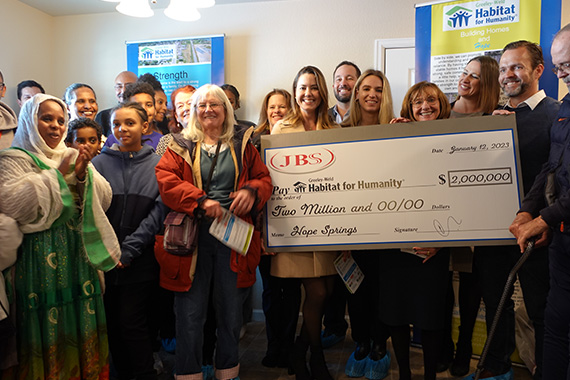 Globally, our initiatives range from child education and care, to refugee and immigration services, housing, healthcare, food security, and more. We also have a long history of partnering with a wide variety of non-profit organizations in local communities, and each of our facilities encourages its team members to take every opportunity to be active stewards of their community.
Our operations in countries such as Brazil, Canada, and the United States also serve as important gateways for refugees and immigrants from many parts of the world to join local job markets and become integrated into the communities where they live and work.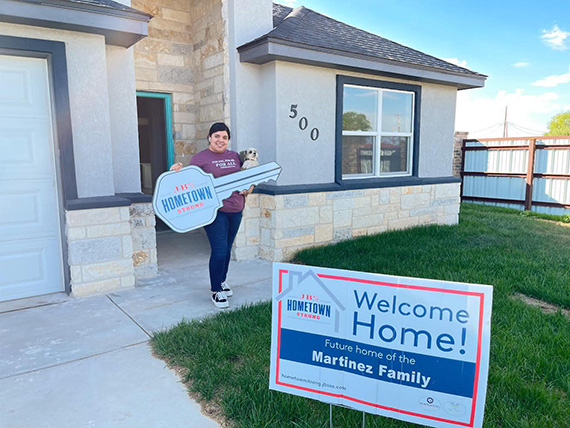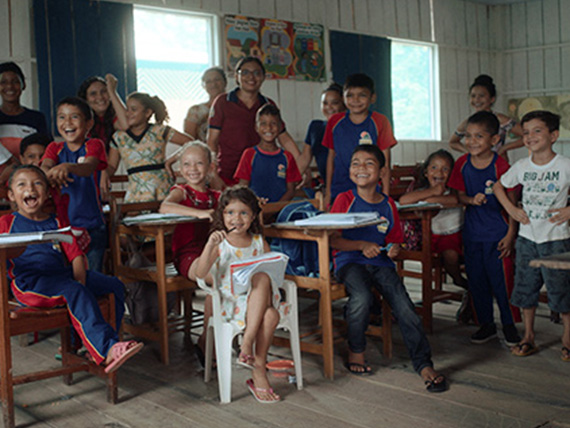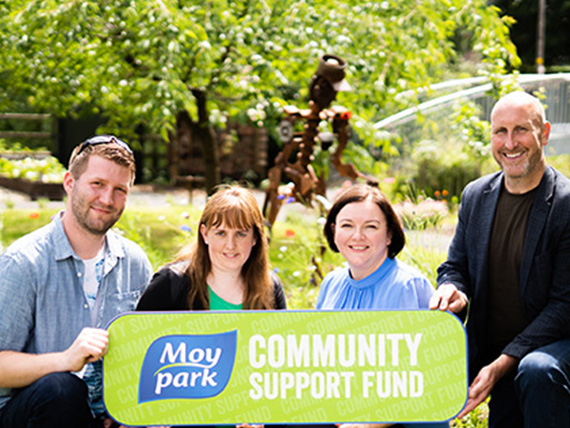 At the corporate headquarters in São Paulo, Brazil, JBS has sponsored the J&F Institute, a full-service school and business-oriented education center dedicated to empowering young people with the tools and discipline to integrate family, school, business and community to achieve their dreams while generating prosperity for themselves and society. The J&F Institute believes that successful businesses regard the growth of individuals in their organizations as the driving force behind business growth and success. These are companies that embed education at the core of their strategy and adopt an unwavering commitment to continuous teaching, training, and personal development.
With this mission, J&F has implemented socio-educational projects that directly align with the central strategy of JBS. This collaboration allows the Institute to adopt an educational model based on a commitment to meeting the needs of people, empowering them for success in business and in life.
The J&F Institute model is built on four core pillars that guide all activities: School, Business, Family, and Community. These pillars serve as the foundation for an ongoing personal transformation of students, whereby children advance both through business knowledge and practical learning.
The J&F Institute views education as the bedrock of success, providing high-quality education from elementary through high school. Driven by the philosophy of lifelong learning ("growing and learning for life"), we pursue efforts to elevate education to the next level, towards higher education and tangible business opportunities. To date, the J&F Institute has advanced its mission through two major strategic initiatives:
Public School Support; providing direct financial, educational and training support to 170 public schools in Brazil and

Basic and Professional Education (Germinare BUSINESS, Germinare TECH, Germinare VET, and Instituto J&F Família); providing educational and training opportunities to more than 89,000 students and more than 3,500 teachers since the Institute's founding. Today, there are more than 900 active students and 413 young people have been trained, with 98% of J&F Institute graduates currently employed in the job market Importantly, J&F Institute graduates have increased the per capita income of their families by 72% between 2015 and 2021.
For more information about the J&F Institute, please visit: https://institutojef.org.br/
In 2020, JBS USA, JBS Canada and Pilgrim's U.S. launched Hometown Strong, a US$ 100 million initiative to bring strength and stability to the communities where we live and work. Our facility management teams have been working with local leaders and organizations to determine how the funds can best help meet immediate and longer-term community needs. Projects include donating books and computers to underserved children, constructing warehouses for food pantries, funding high school agriculture programs, as well as developing land for playgrounds, community gardens and team member housing. To date, Hometown Strong has invested in over 250 projects, with more initiatives to come. Throughout the global pandemic, our team members and communities have looked to us for reassurance that we can—and will—get through this pandemic. Toward that end, we are excited to provide meaningful investments in projects that will have positive impacts for generations to come. Click here to read more about our Hometown Strong initiative.
As part of our Hometown Strong initiative, JBS USA and Pilgrim's U.S. are working to build the largest free college tuition program in rural America: Better Futures. Through this program, our team members and their child dependents have the opportunity to pursue their higher education dreams for associate degrees and trade certificates at community and technical colleges—tuition free. We recognize and believe in the transformative power of higher education and the opportunities that come from education, coursework and technical skill training. Better Futures removes a major financial barrier to college attendance and stands to become the largest free college tuition program in rural America. JBS USA and Pilgrim's advisors will also help team members—many from first-generation American families—navigate the application process, which can be a deterrence to people applying to college for the first time. The Better Futures program provides meaningful investments in the futures of our team members, their families and our communities. Click here to learn more about the Better Futures initiative.
In line with its social commitment, Friboi partnered with the Special Chefs Institute to bring together the flavors of gastronomy with the social inclusion of people with down syndrome. This institution and JBS have partnered together since 2013 and offer cooking classes that encourage students to improve their independences as they develop new skills in the kitchen. Currently, the project serves 300 people a year in the city of Sao Paulo. Friboi also discloses the recipes prepared by the institution's students on its social networks.
JBS Australia Food Donations
Our JBS Australia business units are proud to make donations to a range of food charities across the country every year. This includes donations to Foodbank Australia, who assists in providing food relief to 306,000 households every day. In 2022, Primo donated 221,000 meals and 32,300 kilograms of sausages to Australians doing it tough under Foodbank's Collaborative Supply Program. Furthermore, Huon's donations to Foodbank helped to feed 29,200 Australians, through donations of frozen salmon valued at approximately AU$ 665,000. Meanwhile, Andrews Meats donated to a number of food charities in 2022 including OzHarvest, Plates 4 Mates and Canice's Kitchen, with donations exceeding AU$ 70,000 in product value.
In 2019, Pilgrim's U.S. launched the Tomorrow Fund, a scholarship program to support the collegiate pursuits of our team members and their direct dependents. Our vision is to become the best and most respected company in our industry, creating the opportunity of a better future for our team members. In line with this pursuit, we established the Tomorrow Fund to help our team members achieve their dreams and create a better future for themselves and their families through education. Every year, an eligible student from each of our 30 processing facilities across the U.S. and Puerto Rico, plus our corporate office, will be awarded a full-ride scholarship to an eligible university of their choice. Our goal is to invest US$ 2 million in the Pilgrim's Tomorrow Fund scholarship recipients by 2025. The Tomorrow Fund supports team members and direct dependents pursuing an initial bachelor's degree, an accredited vocational-technical certification or an associate degree. Award recipients participate in a Pilgrim's mentorship program and are extended internship offers for the summer at Pilgrim's locations across the country. At Pilgrim's, we believe our people are our greatest strength. The Tomorrow Fund invests in the future, supports our local communities and improves the lives of our team members and their families through empowerment, education and personal growth. We awarded our inaugural class of Tomorrow Fund leaders with a full-ride scholarship in Fall 2020.
Moy Park established a £1 million Community Support Fund aimed at supporting and enriching the lives of those in need across its local communities. This new initiative builds on Moy Park's range of existing and long-established community measures, including charity and educational programs. Moy Park's HR and Performance Director, Kirsty Wilkins said, "The food industry plays a vital role, keeping our supermarket shelves stocked and we are thankful to our local towns, villages and team members who are part of this important effort. Moy Park is a people focused organization, and we invest heavily in development opportunities for our colleagues in the workplace. This new community initiative is a natural extension of this approach and we look forward to receiving applications from local groups."
From 2018 to 2021, Pilgrim's UK has donated more than £65,000 to Mind, which provides mental health support services that have become even more important throughout the pandemic. Pilgrim's UK staff have taken part in a host of activities to raise funds for Mind, including a sponsored staff head shave, which raised more than £600; climbing Mount Kilimanjaro to raise funds; and participating in a 100km challenge, which raised more than £2,000. Pilgrim's UK also regularly donates to Mind through its staff lottery, which has raised nearly £30,000 throughout the past five years.