Slowing down climate change is one of society's greatest challenges. It is also one of the main long-term risks faced by the agricultural supply chain and dependent industries. We must all act urgently to limit global warming to 1.5°C and combat its negative effects. As a global diversified food company, we have an opportunity – and responsibility – to leverage our scale and influence to help lead sustainable transformation by example and empower our value chain and peers to collectively move forward.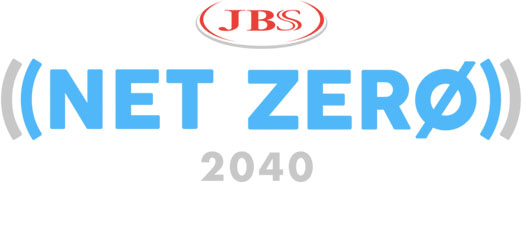 In March 2021, JBS was the first global meat and poultry company to pledge to achieve net-zero greenhouse gas (GHG) emissions by 2040, ten years ahead of the deadline set by most companies and governments around the world. Now, we are working to transparently share how we intend to achieve these reductions in our absolute scope 1, 2, and 3 emissions, while continuing to sustainably grow our business and meet the increasing global need for safe, affordable access to high-quality food.
To bolster our pledge and encourage immediate action, we have adopted several near-term targets to achieve reductions in emissions, including reducing our scope 1 & 2 GHG emission intensity by 30% by 2030, and reaching 60% renewable electricity by 2030 and 100% by 2040.
In 2023, we are working to develop a robust Net Zero Roadmap that outlines our priorities and guides our actions over the next 17 years. It will be iterative and flexible to allow our businesses to design and implement strategies best suited for their specific operations.
Starting this process meant taking inventory of the challenge in its entirety. For 13 years, we have measured, monitored, and estimated our direct and indirect GHG emissions by scope 1 and 2 categorizations to be voluntarily reported to GHG Protocol¹, CDP, regional regulatory frameworks, and more. In 2022, we expanded our approach by carrying out the first-ever comprehensive analysis of our company's global GHG emission inventory, inclusive of all relevant emissions, in alignment with GHG Protocol methodologies. The analysis showed that, similar to other food and agriculture companies, the majority of our footprint is made up of indirect scope 3 emissions from activities in our supply chain such as livestock and grain production or product distribution and consumption. This presents a significant challenge because these emissions are not directly related to JBS's operations and management. Instead, they are part of the emissions produced by hundreds of thousands of individual farming operations growing agricultural commodities and millions of consumers eating food. However, we also see this as a major opportunity to engage our suppliers, food system partners, and consumers on how we can collectively take action to address our shared GHG footprint and improve the resiliency and productivity of the global food system.
1 Historically, this has only included our JBS Brasil operations, reported under the Brazilian GHG Protocol Program, CDP Climate Change and CDP Forests questionnaires, and the Paraná state government, all voluntarily.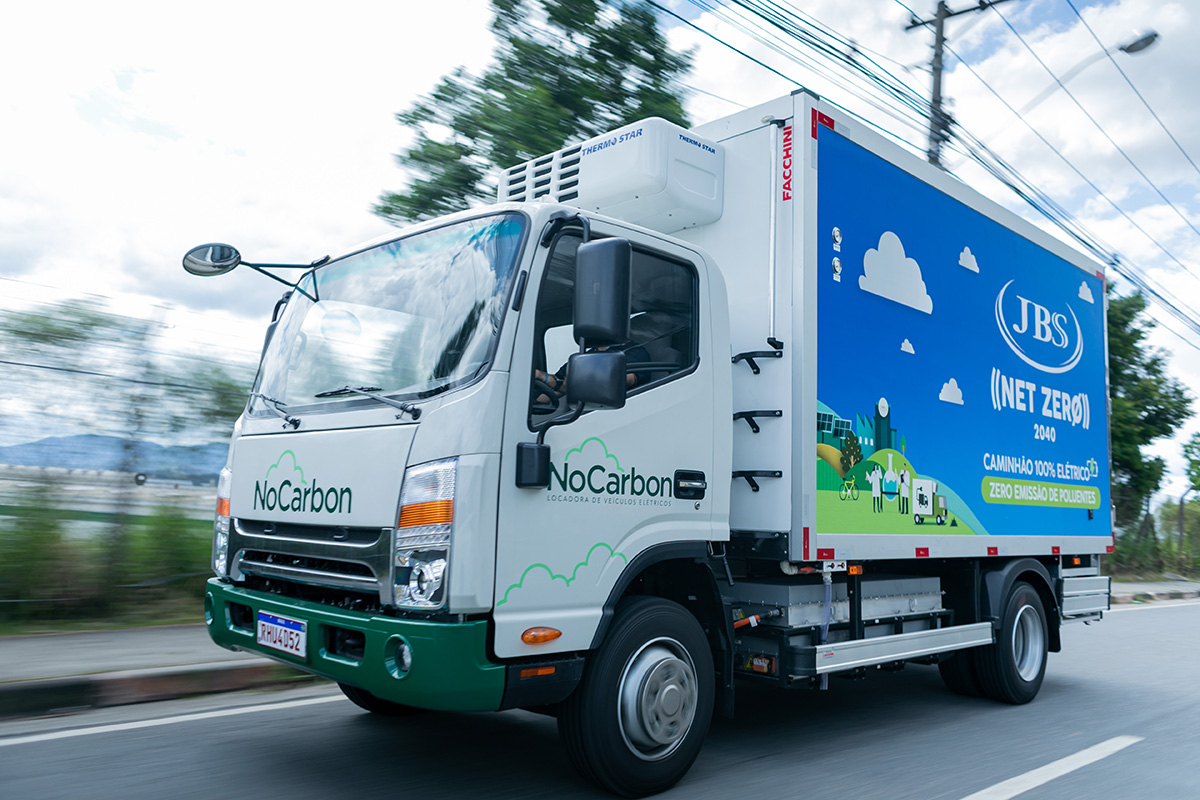 While we continue our focus and actions to reduce GHG emissions from our facilities, in particular we will be expanding our capabilities and partnerships to catalyze action in our upstream supply chain. Given the size and complexity of this shared footprint, we will utilize a comprehensive and company-wide approach to working with our suppliers and customers and pursue several parallel measures to address our shared food system's emissions, including:
• Data measurement and reporting:
Improving the quality, granularity, and transparency of data from our global supply chains, that reflects each operation around the world, will be critical for evaluating and prioritizing action with partners in our scope 3 inventory.
We are deploying a global GHG accounting and reporting digital platform in 2023 that will increase our ability to collect quality data, estimate GHG emissions, track improvement projects, and support verification of interventions in our supply chains. Improved data from our supply chains will also help us target more impactful and cost-effective projects to reduce our absolute emissions and intensity-based metrics.
• Deforestation:
Land use change associated with commodities in our supply chain is the single highest priority opportunity for indirect GHG reduction actions. This is one of the reasons we are working to end agriculture-related deforestation from our supply chains, and it will require a multi-prong approach. Learn more about our comprehensive strategies and actions to address deforestation, please read Responsible Sourcing.
This is one of the reasons we are working to end agriculture-related deforestation from our supply chains, and will require a multi-prong approach. To learn more about our comprehensive strategies and actions to address deforestation, please read Responsible Sourcing.
• Strategies and interventions for each protein:
Guided by our global Net Zero Roadmap and detailed GHG inventory, beginning in 2023, we will build scope 3 roadmaps for each protein category and country or region in which we operate.
This process will help identify currently available technologies and practices for reducing emissions from livestock production, identify gaps in research and scalability, and ultimately help inform our investment strategy for partnership initiatives.
• Supply chain collaborations:
Where the company has direct connection with livestock, poultry, and seafood suppliers, we will expand our resources and capabilities to help producers better identify beneficial systems they can adopt to reduce GHG emissions while providing economic and operational benefits.
Crucially, because the company has an indirect relationship with much of its global commodity supply chains, we will continue to build a network of partnerships with famers and producers to help identify and adopt climate-smart practices. A scalable and self-sustaining solution will require the full supply chain to engage and collaborate on data sharing, support for farmers, and GHG reduction projects. As such, sourcing and supply chain initiatives will be foundational to addressing emissions from our company's global value chain.
• Sourcing strategy:
We will partner with strategic agricultural commodity suppliers to co-develop and deploy deforestation-free and low-carbon grain initiatives.
Our company culture has always promoted on-the-ground collaboration over off-site enforcement, and we strive to build our scope 3 reduction initiatives around the fundamental need to improve both the environmental and financial performance of our supplier partners. We prioritize using a just-transition approach to advancing the sustainability of our global food production systems, always remembering that success would not be possible without the people taking action.
In tandem with the implementation of our scope 3 emission reduction strategy, we are maintaining our efforts to decrease scope 1 and 2 emissions in our own facilities by employing four primary means, which are described further on our Energy Management page.
Global GHG Emissions by Scope (tCO2e)

2019
2020
2021
2022
Scope 1¹
3,971,569
3,912,571
4,376,827
4,045,137
Scope 2² (Location Base)
1,692,410
1,547,699
1,807,372
1,605,115
Scope 2³ (Market Base)
1,731,526
1,551,270
1,752,367
1,513,548
Global GHG Emission Intensity by Scope
(tCO2e/MT of finished product produced)

2019
2020
2021
2022
Scope 1¹
0.203
0.199
0.215
0.202
Scope 2 (Location Base)²
0.087
0.079
0.089
0.080
Scope 2 (Market Base)³
0.089
0.079
0.086
0.075
Scope 1¹ and 2 (Market Base)³
0.292
0.278
0.301
0.277
¹Includes emissions from stationary combustion, mobile combustion, agriculture, waste, and effluent, and fugitive and process emissions in JBS-owned facilities.
²Includes emissions from purchased electricity, steam, heat, and cooling. Purchased electricity is calculated using location-based methodology.
³Includes emissions from purchased electricity, steam, heat, and cooling. Purchased electricity is calculated using market-based methodology.
In 2020, JBS committed to set near- and long-term GHG emissions reduction targets and to pursue validation of those targets from the Science Based Targets initiative (SBTi). As JBS progressed and neared completion of estimating its GHG inventory and setting reduction targets, in late September 2022, SBTi released its Forest, Land and Agriculture (FLAG) Science Based Target-Setting Guidance. We are currently reviewing this updated methodology and its impact on our planned submittal to SBTi. Regardless of the evolving methodologies from third-party verifiers, JBS remains dedicated to setting and independently verifying near- and long-term GHG emissions reduction targets based on sound science.
In addition, we are currently updating our global scope 3 GHG emission footprint against the newly released FLAG Guidance and draft GHG Protocol Land Sector Removals Guidance. (GRI 2-4)
We applaud the efforts of our team members who have worked diligently to reduce our environmental impact in 2022. We are pleased to report that our team has reduced our global scope 1 and scope 2 GHG emissions by 9% from 2021 to 2022 across both location-based and market-based scope 2 calculation methods. In addition, we reduced our scope 1 and scope 2 GHG emissions intensity by 7% (location-based) and 8% (market-based) year over year. Collectively, we have reduced scope 1 and scope 2 emissions intensity by 5% (marked-based) in comparison to our 2019 goal baseline.
Looking ahead, we will continue to deploy operational improvements to increase efficiencies and reduce GHG emissions in our own operations while expanding our efforts to reduce and remove scope 3 GHG emissions throughout our value chain.
Pilgrim's Moy Park has unveiled a state-of-the-art poultry farm on its pathway to reach net-zero GHG emissions by 2040. Located in Lincolnshire, U.K., Beech Farm was built from the ground up with sustainability in mind to reduce scope 1 and scope 2 emissions by 100%, effectively taking the farm 'off grid' when all systems operate at capacity.
Everything from the design and layout of the farm building to how it captures and recycles rainwater reflects Moy Park's mantra of 'reduce, reuse, renewable.' Technologies utilized on the farm to reach net-zero emissions include ground source heat pumps to generate heating, heat exchanger systems to reduce overall heat usage, and solar technology capable of generating 1MW of electricity, which work in tandem with lithium battery storage. The facility also practices the latest biosecurity measures to help ensure safety and welfare standards for its birds. Through these innovations, Moy Park has created a 100% reduction in energy-related GHG emissions at Beech Farm, representing 900 metric tons of CO2e savings a year. With more than 700 farming partners across the U.K., Moy Park plans to use Beech Farm as a demonstration farm to share knowledge and technical assistance with its network of poultry producers. The project's potential to be a game-changer for the industry is also particularly exciting when taken in partnership with Moy Park's other scope 3 initiatives, such as its 'Farm Carbon Calculator' that will monitor and track GHG emissions in real time at individual farm level, across its entire farming base.
The JBS Farm Assurance (JBSFA) program is a third-party-audited beef and lamb supply chain program that provides product integrity related to food safety, animal welfare, quality assurance, and traceability to JBS Australia customers and consumers.
The program underpins six brands, including Great Southern, Hereford Boss, King Island Beef, Pinnacle, Little Joe, and Portoro. JBSFA also includes a sustainability framework to measure on-farm practices across seven pillars: soil, pastures, vegetation, water, livestock, people, and carbon management. Developed in consultation with producers and customers, the framework is designed to meet evolving expectations of consumers on sustainability. In alignment with the company's pledge to be Net Zero by 2040, carbon management has been a key focus of the JBSFA framework. Since 2021, JBS Australia has worked with consulting firm, Integrity Ag & Environment, to develop a more detailed understanding of the on-farm carbon emissions of cattle producers in the JBSFA program and engage with them on opportunities for emission reductions. As part of the project, JBS Australia supported the development of streamlined on-farm carbon footprint measurement and reporting and, as of December 2022, had extended the initiative to around 50 producers, representing ~3% of the JBSFA program. Looking ahead, JBS Australia will continue to scale up on-farm footprinting in 2023. The next phase of the project will also build on the findings from on-farm studies to deliver a detailed carbon footprint for the JBS Southern Division's livestock supply chain, and a strategy to reduce emissions in support of the JBS Global Net Zero pledge.
At Friboi, our GHG emissions are primarily generated by scope 3 activities, such as enteric fermentation in livestock. Therefore, it is essential that we work in collaboration with partners throughout our value chain to improve the efficiency of cattle production systems and identify potential pathways to reduce methane emissions in Brazilian livestock.
That is why we are actively searching for scalable feed additives that improve feed efficiency in animal diets – one of the potential pathways for reducing methane emissions. We have partnered with the Institute of Animal Science and its researchers at the Rumen Fermentation and Beef Cattle Nutrition Laboratory to test several methanogenesis inhibitors. One of the initial additives being tested is tannins, complex molecule derived from plants that enhance the efficiency of an animals' diet fermentation process, resulting in reduced methane emissions. By focusing on feed additives and collaborating with research institutions, we aim to address the challenges associated with our scope 3 emissions, specifically related to enteric fermentation and manure management in cattle.
In the United States, JBS USA has contributed US$ 700 thousand to the University of Nebraska-Lincoln Foundation to support a new Feedlot Innovation Center, which will include cattle comfort and research buildings, a feed technology facility, innovative open lots, and an animal handling facility. In November 2022, the Center held its official groundbreaking ceremony.
The expansion aims to create real-world facilities to test new precision technology, solve environmental challenges facing the feeding industry, and improve cattle performance and welfare while comparing different environments and housing systems. It will also allow for innovation in manure collection and management that will innovate both new and possible modifications for existing operations.
In December 2020, the JBS Canada team successfully completed installation of a 30-million-gallon covered anaerobic lagoon to capture and eliminate the majority of GHG emissions at its Brooks, Alberta, beef facility. Equipped with a cover and a biogas collection and handling system, the anaerobic wastewater lagoon continues
to prevent GHG emissions from entering the atmosphere, ultimately reducing the facility's emissions by approximately 90% in comparison to pre-anaerobic lagoon levels. In addition, the lagoon also benefits the facility's water reclamation process by improving its water treatment. Over 99% of treated industrial wastewater at the facility is reclaimed and used for irrigation on local cropland, benefiting crops like alfalfa, barely, wheat and grass. The Brooks team continues to identify the best use of the captured biogas and has partnered with a global leader in anaerobic solids digestion to seek additional opportunities for producing biogas from organic waste solids generated at the facility. Together, these two sources of biogas would be combined and beneficially used.
In Brazil, JBS Ambiental invests in technology to convert post-industrial plastic waste into small resins. These are then transformed into other plastic materials, such as garbage bags and cages for animal transportation, which are used within JBS' own operations.
As part of the company's efforts to improve grazing management practices and reash net-zero GHG emissions by 2040, JBS USA has contributed US$ 230 thousand to support two Colorado State University AgNext research iniatiatives.
The first project aims to develop a U.S livestock industry net-zero roadmap that will identify current knowledge gaps in GHG reduction strategies, determine potential reduction pathways using dynamic lifecycle assessments (LCA), and calculate abatement cost curves for GHG mitigation. In addition, JBS USA is working with AgNext to help cattle producers across the country develop science-based grazing management principles that will support the sustainability of ranching.
Looking to drive carbon sequestration, improve soil health and water quality, and create new economic opportunities for growers to profit from conservation practices, such as no-till and cover crops, JBS USA is partnering with the Soil and Water Outcomes Fund to engage growers across multiple states in the U.S.
in scaling up climate-smart outcome-based contracts on farms that lie in key commodity supply sheds. The US$ 150 thousand partnership is conducting a 10,000-acre pilot in Indiana, an important supply shed for our pork production.
JBS Biodiesel, a globally leading, vertically integrated producer of biodiesel from beef tallow, doubled
its total production capacity in 2022 through the inauguration of its second plant in Mafra, Santa Catarina, in Brazil.
the next five years to support research and development of practices and technologies to reduce enteric methane emissions from cattle.
JBS USA has donated US$33 thousand for the University of Minnesota to utilize the Food System Supply-chain Sustainability (FoodS³)
transportation model to map the animal supply sheds and their associated feed sheds within the U.S., as well as the greenhouse gas impacts associated with these supply chains.
In 2022, Pilgrim's Food Masters implemented a new combined heat and power unit at its Carrickmacross facility.
This is expected to help remove 299 MT of CO2e from the environment, a potential 4% reduction in the site's total scope 1 and 2 emissions.
In the United States, JBS USA is partnering with the Pork Checkoff and Sustainable Environmental Consultants (SEC) to perform partial lifecycle assessments at JBS USA's sow farm in Dalhart, Texas.
The initiative seeks to determine the precise GHG emissions produced at this operation and identify what emission mitigation strategies could be best utilized to decrease on-site emissions.
In 2022, the United States Department of Agriculture awarded the diverse climate-smart grant, "Climate-Smart Grasslands: The Root of Agricultural Carbon Markets," to the University of Tennessee for its proposal in which JBS USA is a major partner.
The project aims to develop climate-smart grasslands agriculture markets and practices for the eastern United States through a large-scale pilot project. 245 working farms will collaborate to install innovative, scientifically-sound practices including grazing, seeding grass, and using soil amendments that improve soil carbon storage, reduce GHG emissions, and maintain operational profitability and resiliency. Ultimately, the project plans to market climate-smart beef and eventually launch a cooperative to sell climate-smart beef products. The approximate funding ceiling for this grant was US$ 30 million.