Water and Wastewater Management
(GRI 3-3; 303-1; 303-2; SASB FB-MP-140a.2)
Water stewardship is crucial to the long-term viability of our global business and our shared communities. Water is a critical component in the production of safe, high-quality food and the decreasing availability of clean, accessible water threatens food security in many areas around the world. Agriculture represents 70% of all water withdrawals, and as one of the largest global food companies, we recognize we must play a fundamental role in helping protect the responsible use of this critical resource.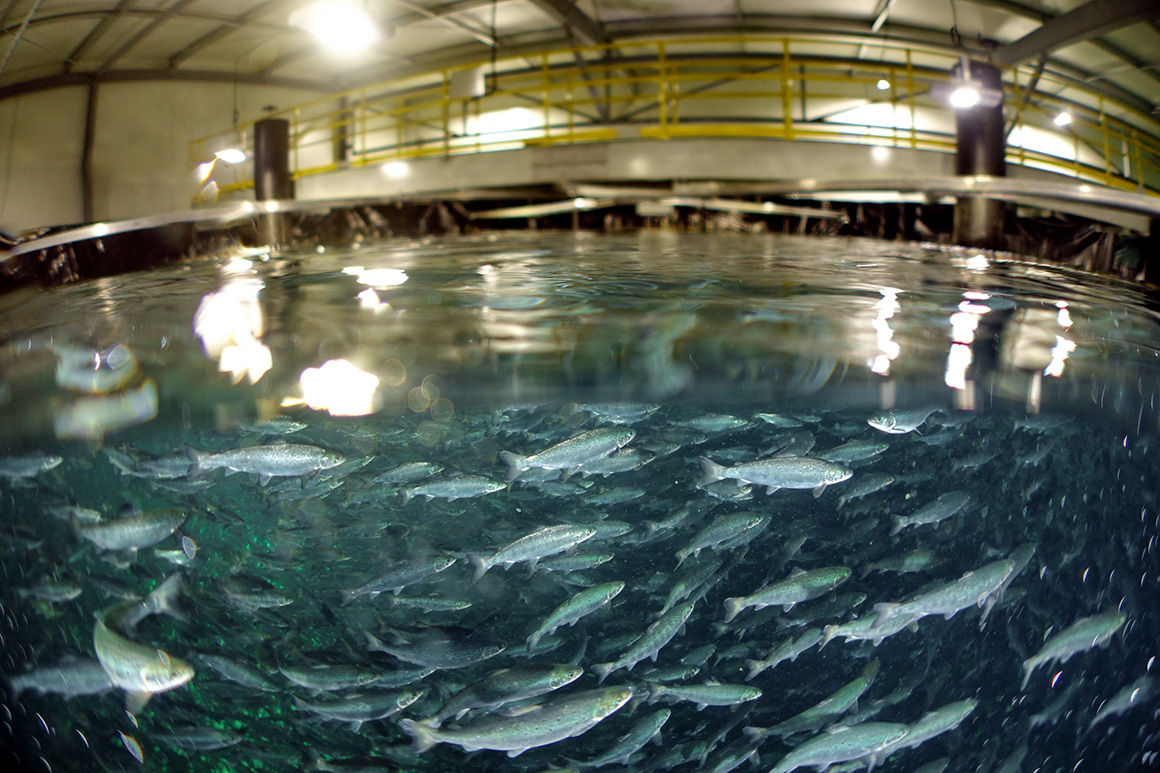 Within our operations, we embrace our responsibility to decrease water consumption by monitoring usage and prioritizing reductions at every facility, while still preserving our high standards for food safety and sanitary conditions. Our global Water Stewardship Policy guides our businesses, encouraging the development of strategies and projects that minimize the need for new water sources.
Each facility sets water-use goals and targets to ensure ownership and accountability and devotes financial resources to maintain alignment with business-specific policies and commitments. We also work cross-functionally with our environmental, engineering, operations and food quality and safety teams when designing and implementing conservation strategies to ensure they do not interfere with food safety protocols.
The primary indicators we measure related to water use include total water withdrawal by source, total water reused, and total water use intensity (water use per unit of production) to consistently identify opportunities for improvements, irrespective of changes in production.
Global Water Withdrawal by Source (m³)

(GRI 303-3; 303-5)
2019
2020
2021
2022
Surface
45,228,057
26.3%
44,748,043
26.1%
45,997,592
45.0%
45,515,648
24.8%
Groundwater
57,677,295
33.5%
56,957,299
33.3%
60,148,519
58.9%
61,404,553
33.4%
Municipality
68,940,053
40.1%
69,323,367
40.5%
74,643,945
73.1%
76,576,839
41.7%
Other
115,805
0.1%
113,939
0.1%
0
0.0%
140,380
0.1%
We constantly monitor the treatment of all wastewater produced in our operations in accordance with appropriate physical and chemical regulatory standards. Each of our production and further processing facilities has a wastewater treatment program specifically tailored to its unique discharge permit requirements to help reduce our total discharged water volume and address noncompliance issues. Depending on the operation, wastewater is treated at our facilities either internally or in the municipal system.
All JBS-owned feedlots and live hog operations are run in accordance with federally mandated, nutrient-management plans or an equivalent program. Manure from our feedlots and live hog operations plays an important role in conservation as a soil amendment and fertilizer. It is composted and used by local farmers to enhance soil quality and as a sustainable alternative to synthetic fertilizers.
Global Water Discharge by Recipient (m³)

(GRI 303-4)
2019
2020
2021
2022
Water Body
80,931,603
52.6%
80,361,473
55.5%
83,400,523
56.8%
84,792,888
57.4%
Municipality
47,130,042
30.7%
50,134,143
34.6%
50,447,505
34.4%
50,003,582
33.9%
Land Application
18,349,248
11.9%
13,983,917
9.7%
12,886,170
8.8%
12,790,240
8.7%
Other
7,406,135
4.8%
262,056
0.2%
6,557
0.0%
120,611
0.1%
Water risk assessments are also a critical element of our strategy and allow us to better identify and prioritize water resource projects that are locally relevant to each watershed and reduce the company's overall water impact. Beginning in 2023, we plan to increase the scope and frequency of our assessments across our global operations to better identify areas with high, medium and low exposure to water-related risks, including quantity (baseline water stress, inter-annual variability, seasonal variability, flood occurrence, drought severity, upstream storage and groundwater storage), quality (return flow ratio and upstream protected land), and regulatory and reputational risk (media coverage, access to water and threatened amphibians).
In 2022, JBS Australia placed a significant focus on improving water efficiency. It recognized that the first step to reducing consumption was accurately collecting, calculating, and reporting usage to better understand where the greatest impacts could be made. The business invested over A$2 million in water measurement and innovation in 2022 across multiple projects, including the installation of new water meters at all nine of its red meat processing facilities, at seven common key points of production. Using data obtained from these meters, JBS Australia can review its performance and create a structured process for rolling out initiatives to reduce water consumption.
The business also prioritized water pressure reduction trials in 2022 at a number of facilities, including Dinmore, QLD, Brooklyn, VIC, and Rockhampton, QLD. Furthermore, water sensors were installed at Rockhampton, leading to a reduction of ~50kL/day. The success of this initiative will be replicated at other facilities, resulting in major additional water savings. Collectively, these initiatives laid the foundation for water reductions in Q4 2022, which continued into 2023. Dedicating the success of its program to its team members, JBS Australia will continue to support water education initiatives to encourage behavior changes across the organization.
In Brazil, our businesses have been expanding their water reuse capabilities across equipment cooling, landscaping irrigation, patio cleaning, vehicle washing, and other activities. In 2022, our Brazilian operations reused 2.62 m3 of water, 54% more than the previous year.
Throughout the year, JBS Couros also promoted the research and development of scholarly articles that feature water reduction, and Seara created an internal committee to evaluate and guide water-related practices in its operations.
Across multiple JBS facilities around the world, we have pursued covering anaerobic lagoons and converting to activated sludge systems where applicable. Eight lagoons were approved for capital improvements in the U.S. and Australia and several others in Brazil were either covered or transitioned to an activated sludge system for nearly 100% reduction of anaerobic GHG emissions at these facilities.
Seara, for example, invested more than R$ 120 million in the modernization of its wastewater effluent treatment processes, implementing activated sludge systems in seven production facilities. This method allows for organic compost to be generated from activated sludge, aligning with the company's Circular Economy principles.
In nine Friboi facilities, we are investing R$ 54 million to install biodigesters, reducing methane emissions from our industrial operations and advancing on our journey to achieve net-zero GHG emissions by 2040. Biodigesters are anaerobic wastewater treatment systems that decompose organic matter present in effluents and produce biogas as a byproduct.
The biogas produced is rich in methane and can be used as a source of energy, along with various applications in renewable energy generation. It can be utilized to generate steam in boilers, replace biomass, produce electricity, or fuel the JBS transportation fleet by either substituting diesel or powering a hybrid system. Biodigesters have the potential to reduce 65% of Friboi's scope 1 emissions, resulting in a 24.6% decrease in scope 1 emissions across all activities within the JBS group in Brazil.
In the United States, we continue to invest in both behavioral and capital improvements to reduce water usage in our operations. This was demonstrated at our beef facility in Grand Island, Nebraska, in 2022 when we approved US$ 570 thousand for the initial phase of a major water reuse initiative.
Since the project was brought online, the facility's water demand has decreased by more than 5%. As a result, the Grand Island team is eager to implement the project's secondary phase in the near future, believing that an additional 5% reduction is possible.
In Brazil, JBS Ambiental invests in technology to convert post-industrial plastic waste into small resins.
These are then transformed into other plastic materials, such as garbage bags and cages for animal transportation, which are used within JBS' own operations. To learn more about JBS Ambiental, please visit Circular Economy and Reverse Logistics.