We strive to provide a diverse product portfolio that consistently meets – and exceeds – the evolving needs of our customers and consumers around the world. Across our operations, we have worked to expand our plant-based, organic, hypoallergenic, antibiotic-free, natural, and fresh product offerings, while also increasing our options for smaller serving sizes that provide convenience and reduce waste.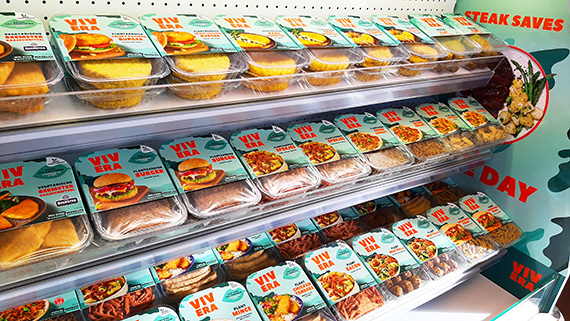 In 2021, we acquired Vivera, a company that develops, produces, and markets a diversified and innovative range of plant-based meat substitutes to large retailers in more than 20 European countries, with an especially strong presence in Dutch, U.K., and German markets. Vivera has added to our global platform of plant-based products and will help drive innovation within JBS. As a significant plant-based protein producer in Europe by market share, the company boasts technical expertise that can help to grow our global plant-based protein business:
Our Incrível brand offers plant-based proteins for vegan, vegetarian, flexitarian, and vegan-curious consumers in Brazil.
Richmond Meat-Free, a Pilgrim's Food Masters brand, saw significant expansion in 2022. The new products include Meat-Free Back Bacon, Meat-Free BBQ Sauce Flavour Sausages, Chargrilled No-Chicken Pieces, and Meat-Free Deli Slices. Since its launch in 2019, Richmond Meat-Free has become a significant contributor to the growth of the meat-free category in the U.K.
In 2021, we acquired the controlling share of Spain-based's BioTech Foods and gained commercially viable technology in the field of cultured protein production. In conjunction with this acquisition, we unveiled plans to build the first Research and Development Center (R&D) for Cultured Protein and Food Biotechnology in Brazil. This center will develop new techniques to expedite gains of scale and drive down cultured protein production costs.
The new technology has the potential to produce not only beef protein, but also poultry, pork, and seafood proteins. In total, JBS intends to invest US$ 100 million across the two initiatives, in line with our protein diversification strategy in response to emerging consumer trends and expected population growth over the coming decades.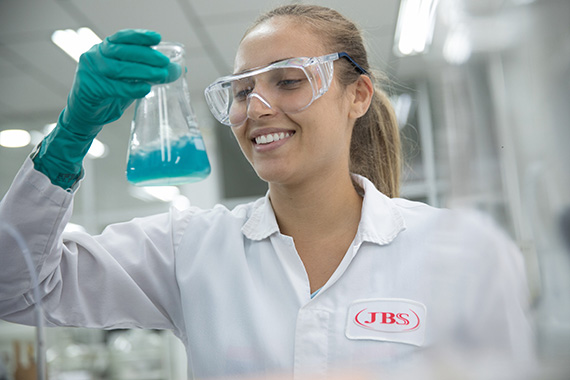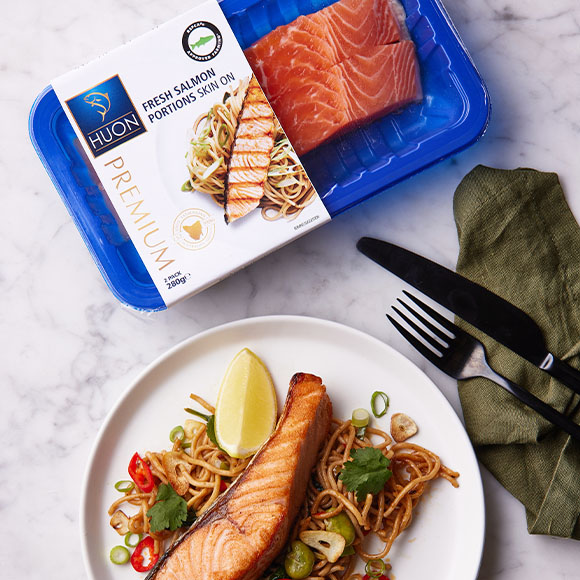 Our 2021 purchase of Australia-based's Huon Aquaculture, a farmed salmon producer, also marked our first foray into seafood production. With JBS operations like Seara and Wild Fork Foods recently beginning to distribute fish and seafood in regional markets, having our own production has allowed us to streamline Huon's operational infrastructure with the company's existing operations.
Aquaculture also presents an exciting opportunity for our business from a sustainability perspective. Out of all proteins, it has the lowest carbon footprint, with farmed salmon contributing an average of 2.9kg of carbon dioxide per kilogram of edible product. Furthermore, Huon Aquaculture has achieved a Feed Conversion Ratio (FCR) of 0.8 kg of feed to 1 kg of fish, which both sits below the industry average and makes the business a net producer of protein.
Customer and Consumer Engagement
To ensure we continue to hit the mark, we engage in continuous dialogue with our customers and consumers through a variety of comprehensive, easy-to-use resources, such as websites and communication channels. Resources are organized by region, protein, and customer- vs. consumer-focus. Many of our businesses have also developed websites that allow each customer to create a personalized account and gain access to information on point-of-sale materials, packaging specifications, brands, premium programs, value-added products, food safety and quality, and the way the animal was raised.
Brand-specific websites and social media channels where consumers can learn more about our products and brands are also available. Through these channels, we provide recipes, basic cooking instructions, and nutritional information. Consumers also have the ability to search for recipes by cut or cook method and access product allergen information and recommended food safety handling practices. Many of our consumers are active on social media and engage with us through these forums, as well as through our websites' "Contact Us" forms, to learn more about the brand and gain a better understanding of the production practices utilized.
In addition to our websites and social media platforms, consumer-specific phone lines and email accounts offer another venue for transparency and customer service. Through these communication channels, our teams monitor direct product feedback, interact with consumers to address questions, concerns, or compliments, maintain a database to track trends, and provide performance reports to team members.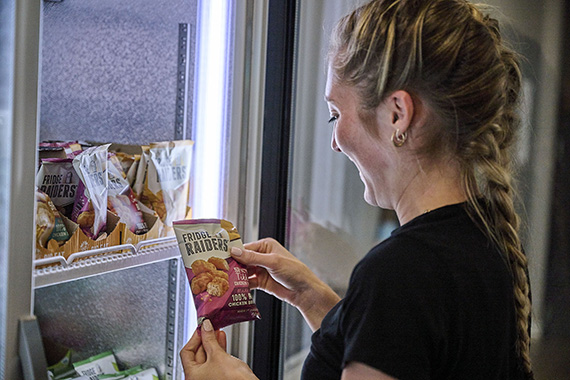 In 2022, Friboi was again recognized as "Top of Mind" in a survey by Instituto Datafolha in thousands of Brazilian homes. It was also acknowledged by Nielsen as "the most sold beef brand in Brazil", in addition to being recognized as "highly renowned" by the Brazilian National Institute of Industrial Property (INPI).
Throughout its history, Friboi has revolutionized the animal protein segment by deconstructing beef as a commodity and building one of the most diversified portfolios in the sector. The business also has customized programs for retail and wholesale customers, with a notable contribution of "Açougue Nota 10" (Friboi+) to our 2022 performance. The program is present in more than a thousand stores that follow the same service and care standards, ensuring the best exposure of cuts, management support, and improvement in merchant profitability.
In the United States, our La Herencia brand has started including QR codes on its packaging to direct consumers to a cooking instruction landing page.
This initiative was implemented as a direct resulting of consumer feedback received through one of the brand's consumer channels. In less than a year, the QR code has generated 199 thousand scans. In 2022, La Herencia was also ranked the #1 growth-driving brand in value added meat, representing 41% of all dollar growth in the U.S. value added segment.
In Brazil, Swift benefited from expanded investments in innovation and marketing in 2022, with its new communication campaign "Tem qualidade em tudo" (It has quality in everything) reinforcing the brand's main attributes.
The company, founded in the United States by Gustavus F. Swift in 1855, was acquired by JBS in 2007 and has gained strength and visibility through an innovative strategy: owned retail stores, thus having control of the entire value chain, from animal selection to temperature control during transportation and point-of-sale displays and merchandizing.