Our Sustainability Strategy
(GRI 2-22)
At JBS, we are striving to set the food industry standard for profitable and sustainable food production for a growing planet. This means improving the sustainable performance and resiliency of not only our own operations, but contributing to the enhanced sustainability of the greater food production system as a whole, while also helping our customers achieve their sustainability goals. To realize this vision, we have developed a Global Sustainability Strategy that mirrors our supply chain connections and addresses our material sustainability topics. This strategy will guide the company's actions across environmental, social, and governance topics and serve as the overarching framework through which all our sustainability programs and initiatives are developed.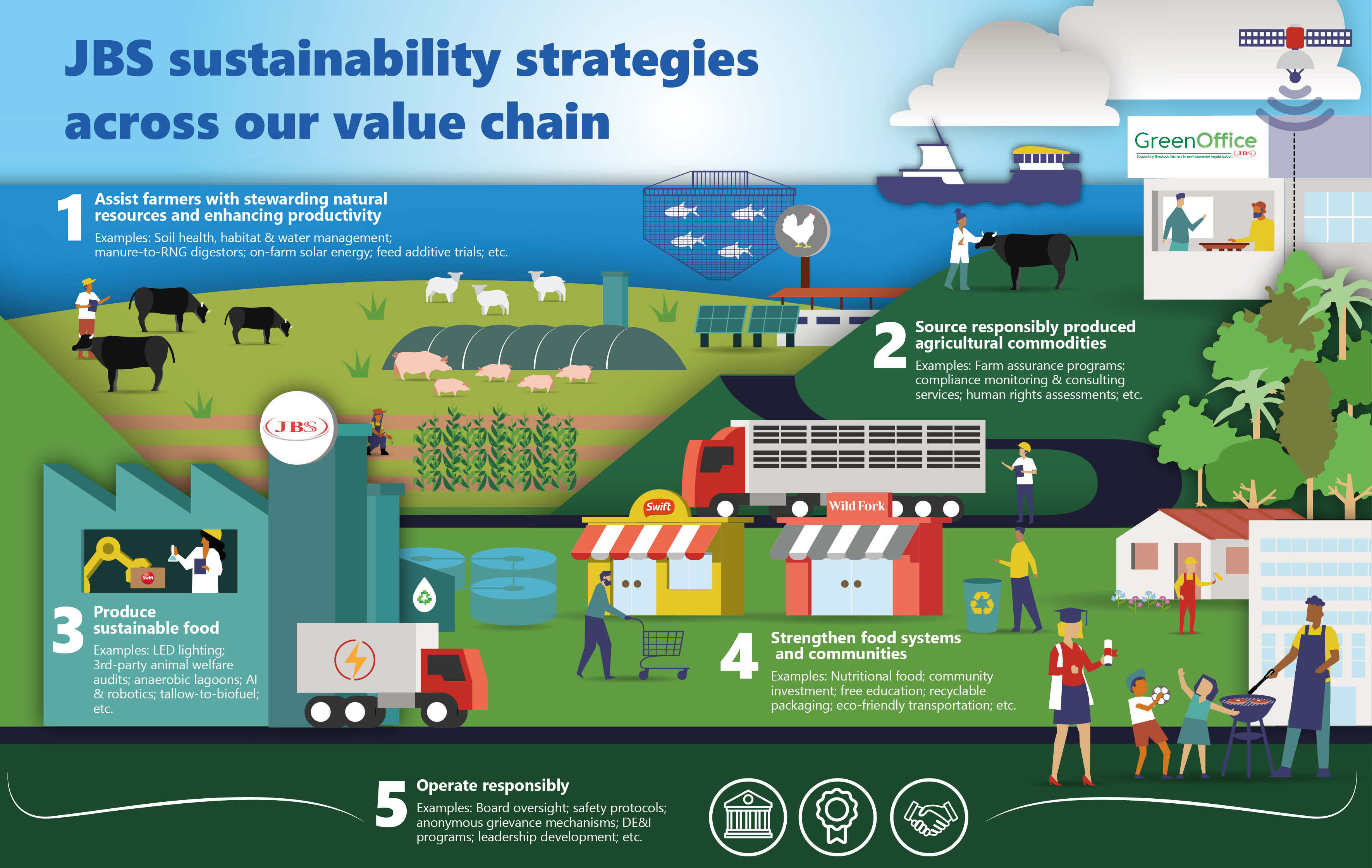 Value Chain:

Upstream

JBS

Downstream

Model:

Produce
Commodities

Purchase
Goods

Manufacture
Food

Supply
Customers

Strategies:

1. Assist farmers with
stewarding natural
resources and
enhancing productivity

2. Source responsibly
produced agricultural
commodities

3. Produce
Sustainable Food

4. Strengthen Food
Systems and Communities

5. Operate Responsibly

Focus Area:

1.

Climate
Land
Biodiversity

2.

Commodity Supply Chains
Deforestation
Human Rights
Animal Welfare

3.

Operational Excellence
Circular Economy
Packaging
Customer and Consumer
Engagement
Product Integrity

4.

Food Supply Chains
Food Waste
Food Security
Community Impact
Industry Collaboration

5.

Ethics and Compliance
Team Management
Human Rights

Employee Engagement
Team Member Health and Safety
Diversity and Inclusion
Our Sustainability Governance StructureIn 2022, JBS appointed Jason Weller as the company's first Global Chief Sustainability Officer (CSO). In this role, Jason leads the company's global sustainability efforts and reports directly to the Global CEO. Under the CSO, a new JBS global sustainability team structure was created to better coordinate our sustainability actions across the company and accelerate our progress toward major priorities, including our pledge to achieve net zero greenhouse gas emissions by 2040 and address deforestation in our supply chain.
Reporting to the CSO are the Head of Sustainability in Brazil and the Head of Sustainability of North America, who are responsible for engaging their respective business units and value chains towards creating a more sustainable agricultural system. Under their leadership, the Brazilian sustainability department tracks the company's domestic operations in South America and their impacts in other countries, while the North American sustainability team focuses on markets in the United States, Canada, Australia, New Zealand, Mexico, the United Kingdom and Europe.

This new structure realigns current team members and will add new capacity to provide enhanced services to our internal businesses over time. By supporting the company's regional business units with a customer mindset, the team strives to build a global framework for sustainable excellence from which the whole company will benefit. At the executive level, the structure also supports members of the Socio-Environmental Responsibility Committee, which advises the Board of Directors on the risks and opportunities in sustainability initiatives.

Having only been active for a few months, this newly formed structure has already improved global alignment between regional operations, helping to instill a unified company vision for producing food sustainably.
Our Materiality and Stakeholder Engagement(GRI 2-29; 3-1, 3-2)
One of the roles of our sustainability team is to be an interface between JBS and our key stakeholders, fostering a continuous dialogue and welcoming every opportunity to discuss how we can contribute, actively listen to and anticipate needs, and positively influence others. As our business units determine their own goals, policies, and procedures consistent with our global sustainability strategy and in compliance with the appropriate standards for their respective countries and industries, they also build their engagement with stakeholders locally based on legitimate relationships.
Our materiality matrix is based on four major pillars that represent the most critical topics to our business and our stakeholders: product integrity, social responsibility, environmental stewardship, and animal welfare. These priority topics were identified through a robust analysis that incorporated the views and perceptions of key internal and external stakeholders and the different circumstances of our operations around the world. The material themes were last revisited in 2019 via a survey of both JBS leadership and select customers across our global operations, and feedback was analyzed using consensus-building methodology that did not involve weighting or prioritization.

In 2022, we conducted a complementary survey to reevaluate the leading topics of interest to our stakeholders. The results showed that the most relevant themes were net zero emissions, deforestation, and employee health and safety, in line with our matrix. In addition, we use the United Nations' Sustainable Development Goals as an important benchmark to connect our matrix to the world's most pressing issues.
Our Sustainability Priorities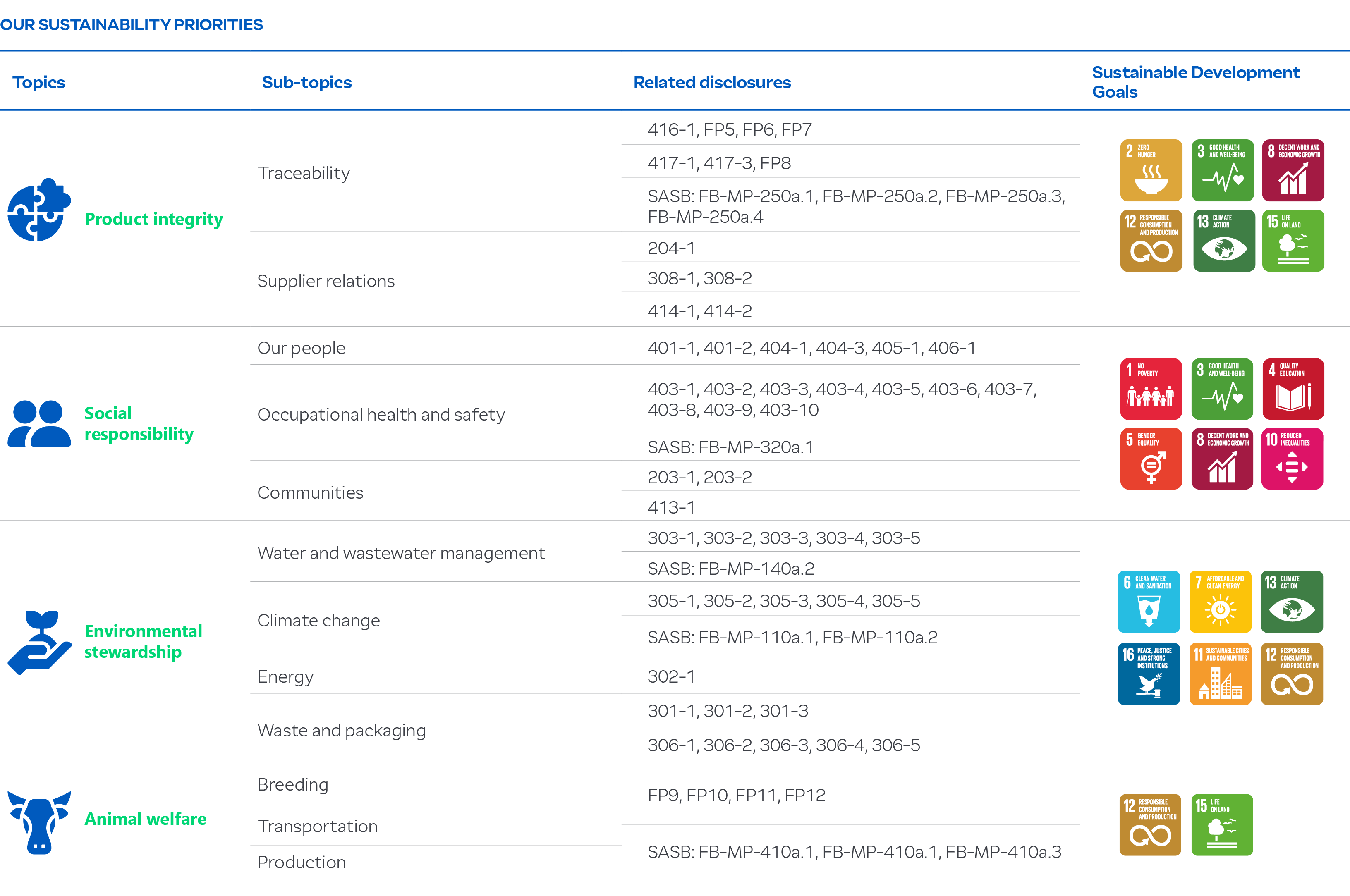 Stakeholder Engagement
(GRI 2-29)
Engagement and collaboration with our stakeholders will always play a key role in both our organizational and sustainability strategies. We recognize that this dialogue must be ongoing to ensure our stakeholders' evolving needs continue to be met, which is why we offer several different communication channels through which feedback can be provided, including our:
Company and brand websites
Customer service channels
Ethics Line
Social media platforms such as LinkedIn, Instagram, and Facebook
Internal and external communications teams
In addition, we believe that the industry-wide issues facing global agriculture today require full value chain collaboration to identify scalable sustainable approaches that prioritize continuous improvement and reduce impact. As such, we are active members of and participate in many trade and sustainability associations, as well as industry-based external working groups, associations, and initiatives related to the topic. A full list of these organizations is available on our list of association.